It appears that the time-intensive
10-step skin routine popular in South Korea
has made its way to the United States, promising youthful, healthy and dewy skin. Unfortunately, many of these Korean products either contain animal ingredients (such as collagen and snail mucin) or test on animals, and companies that do make vegan skincare products are hard to find in the states.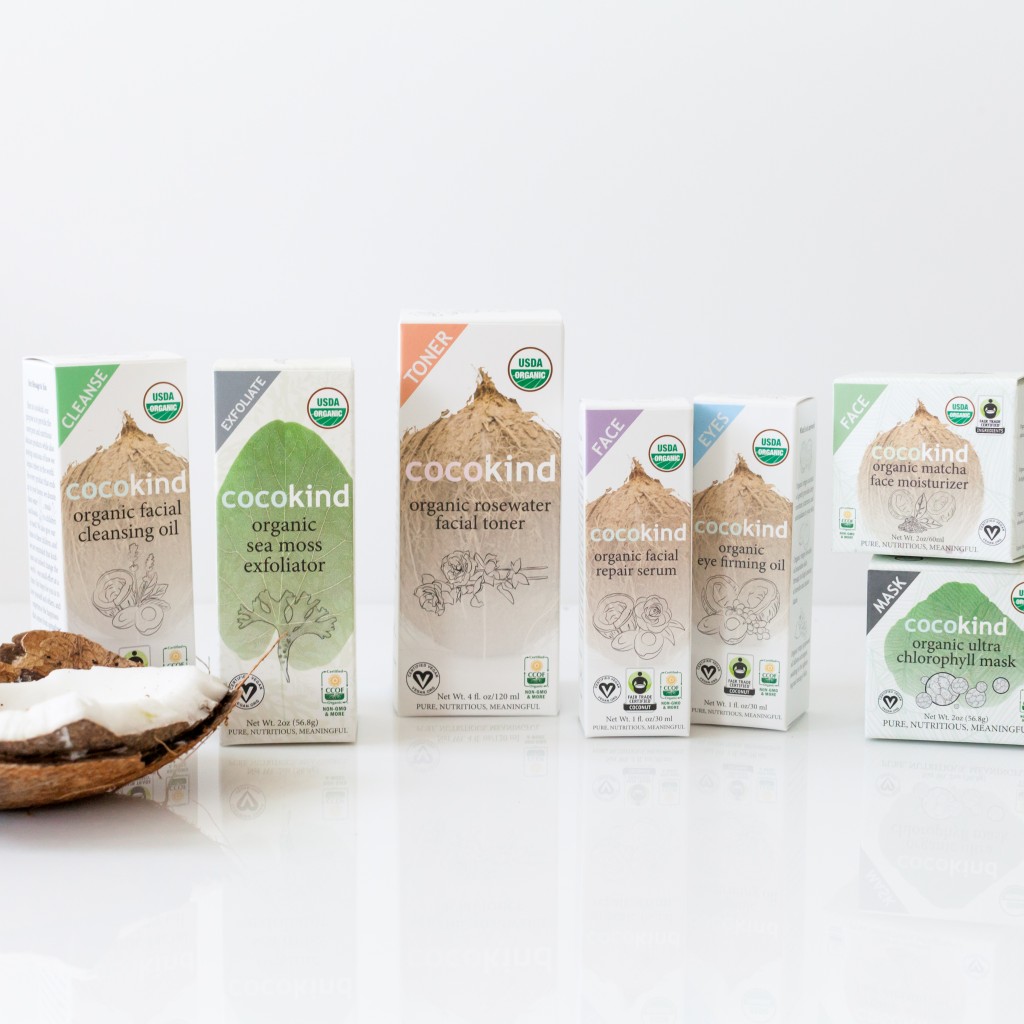 That's where
cocokind
, a company we certified around the holidays, comes in!
Cocokind
offers an extensive range of organic vegan products
that can be used in a 10-step routine, with the whole line containing only natural (and pronounceable) ingredients. Serums, oil cleansers, toners and more are available to leave your skin soft and glowing, making them perfect for those with dry or dull skin. We can vouch for their
Rosewater Toner
,
Facial Repair Serum
, and
Matcha Moisturizers
, which are all aaaa-mazing, and while we haven't tried their two newest products (yet!), an Or
ganic Ultra Chlorophyll Mask
and an
Organic Sea Moss exfoliator
, they sure do look awesome.
Thanks, cocokind, for the amazing products and for letting us vegans experience the 10-step routine as well! Want an example of how to incorporate these products into your routine? See our example below!
---
Cocokind-based 10 Step Routine:
Prepare for your double-cleanse by removing eye-makeup (if you wear it!) with the Organic Eye-Firming Oil. Gently sweep away makeup with a cotton round. This eye oil can also be used as your nightly eye treatment later on!
Time to cleanse! Rub 1-2 pumps of the Organic Facial Cleansing Oil into hands and massage into skin using upwards motions. You'll feel all the grime coming out of your pores. Wet a towel with hot water and place onto face, allowing the steam to open up your pores, pulling out the oil. Once you feel steamed, use the other side of the towel to wipe any residual oil off. Short on time? Skip the rag and rinse with warm water, then pat face dry.
While cocokind doesn't have a typical cleanser, we follow up here with a gentle soap, like Dr. Bronner's liquid castile soaps (the tea tree variation would be good for acne!) or a complexion bar by Chagrin Valley Soap. If you have a konjac sponge, use it along with whatever cleanser you're using! We recently certified Riverlight Naturals' charcoal sponges, but most konjac sponges are inherently vegan.
Is today your exfoliation day? Using the Organic Sea Moss Exfoliator, get a tiny dab of the powder and wet it with a teaspoon of water (or rosewater). Apply the gel to your face and lather for one minute before rinsing! Pat face dry.

Not your exfoliation day? What about masks? While sheet masks look more fun, the Organic Ultra Chlorophyll Mask leaves behind less waste – and makes you look a little less like a peely human, too. Mix a spoonful of the mask with equal parts water in your hands, then apply the green goo to your face! After looking like a swamp monster for 20-30 minutes, wash off the mask.
Now it's time to tone! You can either spritz the Organic Rosewater Facial Toner directly onto your skin, or dampen a cotton ball/pad with the rosewater and swipe! The pH-balanced toner feels amazing and is great for stressed or sunburned skin, so it's great for hot summer nights.
We'd stick an essence here if we had any recommendations! Have a favorite vegan essence? Let us know!
Are you feeling extra dry? The Organic Facial Repair Serum will be your HG. Try out half a pump unless you need a little TLC, then gently pat into skin until absorbed.
Almost there, promise! Once the serum has absorbed, it's time to follow-up with the amazing Organic Matcha Face Moisturizer. Scoop a little out and gently massage into skin. Take a second to get a whiff of the beautiful green tea scent…you won't regret it.
FINALLY! Now going back to the Eye-Firming Oil, pat a little more of the oil around your eyes, moving very gently. The skin around your eyes is super fragile!
10-steps not enough for you? Too much? Adjust to your preference! Whatever you use, your skin will surely be soft and dewy after using the coconut oil-based goodness of cocokind.